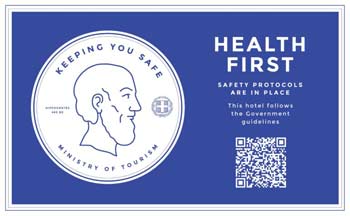 General Cleaning Products & Protocols
Our hotel uses cleaning products and follow protocols which meet NPHO guidelines and are approved for use and effective against viruses, bacteria and other.
Public Spaces indoors & outdoors. Frequency of cleaning and sanitizing has been increased in all spaces with an emphasis on frequent contact surfaces including, front desk, doorman desk, elevators and elevator buttons, door handles, public bathrooms, room keys, stair handrails, dining surfaces and seating areas.
Guest Rooms. Cleaning and sanitizing protocols are used to clean guest rooms, particular attention to high-touch items including telephone, television remote controls, toilet seats, door and furniture handles, light switches, temperature control panels, luggage racks, garbage bins and floors. All in room stationary, pens and pencils will be suspended.
Television remote controls, temperature control panels and toilets seats should be wrapped with one usage cover. It will be highly recommended to all guests the usage of their in-room WC and not the public ones.
Housekeeping trolleys will be sanitized after each shift.

Fully stocked Mini Bars will be suspended.
Room service. Room service will be suspended.
Linen/Laundry. All bed linen and towels will be changed upon guests' requirements and washed at a high temperature in accordance with NPHO guidelines.
Shared Equipment will be sanitized before, during and after each shift or usage. This includes phones, keyboards, computers and other communication devices, payment terminals, kitchen implements, Food & Beverage equipment such coffee machines etc. engineering tools, cleaning equipment, security keys and any other direct contact items used throughout the Hotel.
Air Conditioning Cleaning, according to NPHO protocols.
Physical Distancing. Tables and lounges to be utilized with appropriate physical distancing between each family or traveling party (as per local authorities).
Pool Operation according to Cleaning & Sanitizing Protocol. Lounge chairs set with appropriate physical distancing. 1.5m per set of two.